Hora Sfakion – Anopolis Road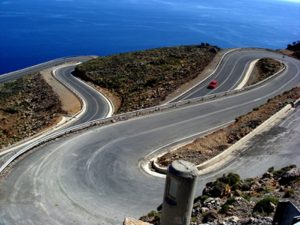 This road has been posted in dangerousroads.org and has rightly claim a place among the most spectacular roads of the blog.
It's length is 11.9 km with 19 very tight 180 degrees turns and is located on the south coast of Crete, between Chora Sfakion and the plateau of Anopolis.
The road starts from Sfakia and ends at the village Anopolis, at a height of 600 meters above sea level in thw southern areas of the White Mountains.
The road with the endless hairpins, has stunning views with huge cliffs and deep ravines.
The road is asphalted and very steep but worth the drive. Do not forget to keep your camera with you because the landscape offers excellent photo opportunities.
This is the southernmost point of Europe and the most natural and wild landscape of Crete.